Description
Fabric
Wool is an all-natural fiber that is breathable and resilient. When tightly packed, the crimped wool fibers create tiny pockets of air that allow the fabric to absorb and release moisture. This makes wool a classic choice for blazers and overcoats, as it is a natural insulator that's not stifling.
This is a smooth variety of cotton that undergoes a special brushing treatment to remove excess lint and fibers from the cotton. Creating a smooth soft finish that makes it breathe easily and wear comfortably. It does not need ironing, thus a great travel choice.
This is a lightweight and drapes well on the body making it remarkably comfortable and soft with a slightly fuzzy finish. The natural matte finish creates a relaxed yet sophisticated feel.
This is a method of weaving, that makes the fabric more breathable and creates a subtle square pattern. The weave itself gives the fabric a natural wrinkle resistance and a very relaxed, forgiving drape.
They have rich textures that combine the best qualities of various fibers for ultimate wearability. Polyester is crease-resistant and holds its shape well over time. Merge that with the insulating powers of wool, or the softness of viscose, and you have an easy-to-wear, all-season blazer.
PATTERNS AND PLAIDS
This is fabric woven with a pattern of small diamonds, each having a dot in the center. It gives the suit a depth that a typical solid will never achieve.
This pattern includes an arrangement of rectangles, so named for a fancied resemblance to the bones of a fish such as a herring. This classic pattern adds texture and a woven veneer to the suit giving substance and quality.
This pattern is a duotone pattern composed of broken checks or abstract four-pointed shapes generally comes in black and white, though you will also find it in more colorful versions.
Paisley pattern is a teardrop-shaped motif with a curved upper end. An elegantly design that will give you a formal aura. For that paisley pattern can be a good choice for a suit.
This refers to three individual fabric patterns that create interesting depth in the aesthetic of the suit: Windowpane, Glen Plaid and Prince Of Wales.
The windowpane suit- both horizontal and vertical pinstripes that intersect to make boxes;
the glen plaid is a tight twill pattern of broken checks;
the Prince of Wales is actually a glen plaid on a windowpane scale.
It is a smooth worsted fabric with a two-tone appearance which is achieved from a basket-weave technique in which two color threads are sewn interchangeably and the threads cross diagonally. This is very light and wrinkle free fabric and the weave is what usually gives the suit that shimmering look making it the perfect formal-wear attire
These are preferred by shorter men since it adds the illusion of height because of vertical line alignment in the stripes. A few examples are Pinstripes, Pencil Stripes, Chalk stripes, Bengal Stripes and Awning Stripes.
Twilled fabrics are those made with a specific weave during their construction that results in a characteristic "diagonal ribbing" in the material. This twill ribbing is extremely sturdy, heavier than many other fabrics, and somewhat water-resistant.
Like actual windowpanes, they are designed out of slightly elongated rectangles. This has the effect of slightly elongating the wearer.
DESIGN
Lapels (2 options – Notch or Peak)
A notch lapel is the standard for a single breasted suit jacket and a peak lapel is more likely found on double breasted suits and more formal jackets like morning coats or a tux. You can get a peak lapel on a single breasted suit jacket. It is vary technically advanced and best saved for black tie dress codes or for when you want to show a little extra pizzazz with your formal look.
Back Vents (3 options- single, double or none)
A back vent is considered traditionally British. A single vent is common on American style business suits and to have no back vent at all was popular during Hollywood's golden era as it was considered most photogenic.
Sleeve Cuff (2 options- waterfall or back to back)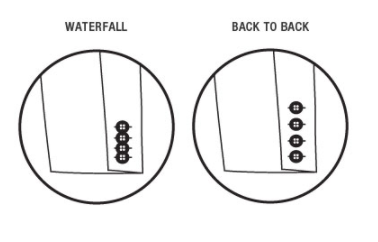 You can opt for either back to back buttons or waterfall buttons which overlap one another slightly.
Pocket (6 options-welt, patch, jetted, flap, ticket or patch)
Choose from jet, welt or flap pockets. The jetted pocket is considered most formal and are when the pocket is sewn into the lining of the suit jacket leaving a small slit opening with a discrete seam running around the pocket opening.
A flap pocket uses the same principle as a jet with an extra flap of material also sewn in which can be left out or tucked in to exactly mimic a jet.
A welt pocket, looks more like a conventional pocket usually the style found on the outer breast. This is where you would put your pocket square.
A patch pocket is a pocket pressed and sewn on to the exterior of a garment.
A ticket pocket, usually above the right hand pocket, this will almost always be a flap pocket.
Trouser Hem (2 options – uncuffed or cuffed)
Personal preference and current trends dictates whether you may want a cuffed or un-cuffed formal trouser.
The lapel hole is used for a decorative flower or lapel pin when you attend formal events and require an extra, decorative attention to the details.
Outer Breast Pocket (optional)
This is for those who prefer to place pocket squares that are not too heavy to ruin the silhouette of the suit. This pocket is almost always a welt pocket.
A sleeve cuff (see point 3) will typically have a sleeve vent which will either be a working vent (meaning you can undo all the buttons) or it will be sewn together and the buttons will be purely for show. If your sleeve vent has a working cuff, some gents prefer to leave the last button undone, purely for show as a working cuff is considered the most premium option.
Some traditionalists do not like to wear a belt with their suit trousers and instead opt for metal tabs to adjust the waist or even braces. We think it is just fine to wear a slim suit belt to coordinate with your formal shoes.
LINING
The lining in your suit jacket adds structure and weight to your suit. A fully-lined suit jacket is heavier, warmer and has a thicker look to it. As a result, the suit jacket lays nicely over the contours of the body. A lined jacket will not crinkle or catch on your dress shirt as easy.
Half-lined gives just enough form and structure without the bulk often found in fully lined blazers.Safari suits are a good example.